5 Stars!
We ordered balcony gliders for our deck with a table, two balcony Adirondacks and a side table. We got the gliders and table very quickly but because it was so cold out yet, we put them together in the living room of our lake house. The cats have taken them over! The gliders are beautifully made as well as sturdy. So happy with our decision. Thank you Jennifer and Terry.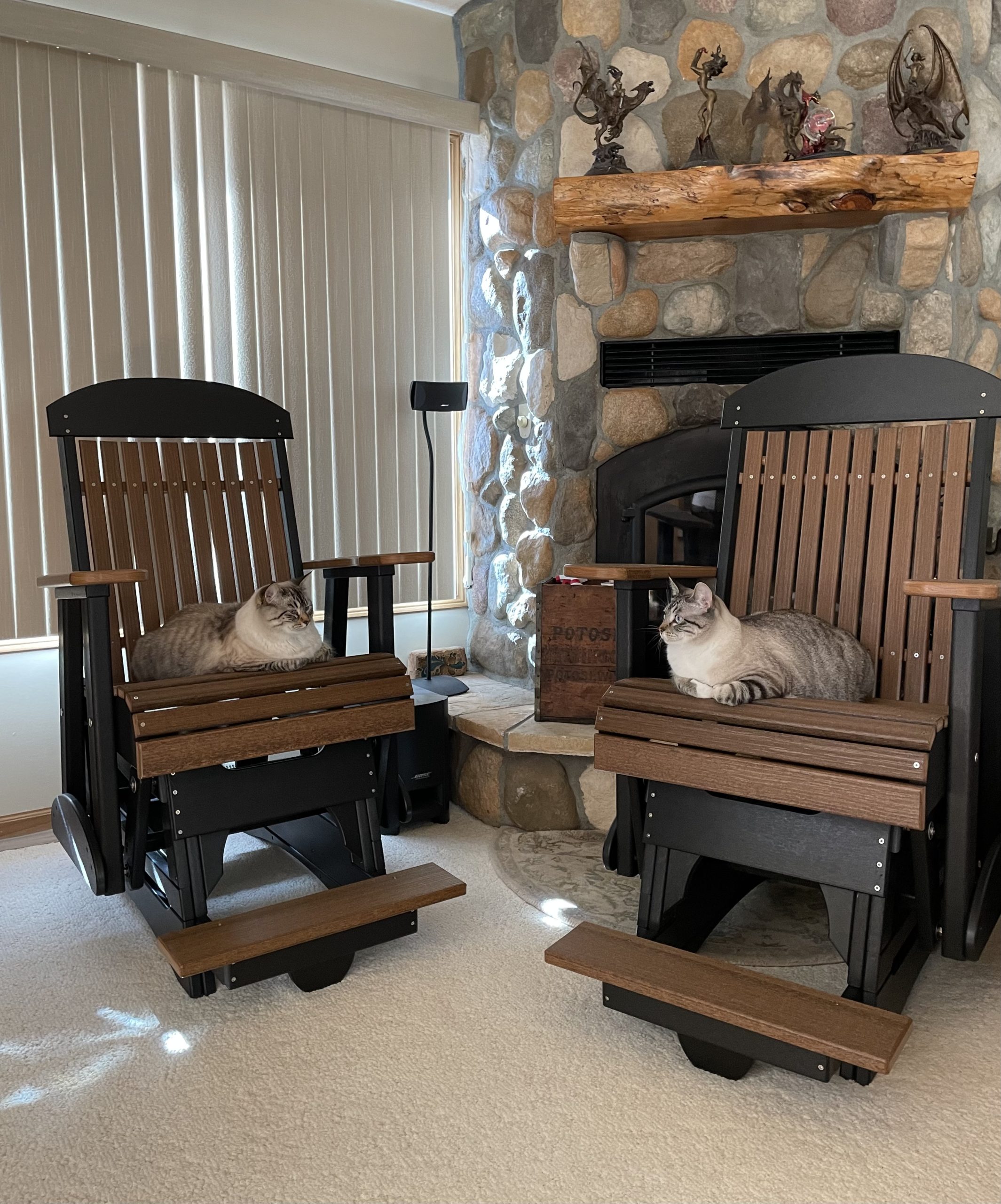 5 Stars!
 Great find when visiting kitchen kettle. Have never been so excited to see such beautiful and well made furniture. Still have my eye on bedroom and dining room furniture in future. And live what I currently have. My mattress is a big hit with visitors. Best night sleep in years they say. Service is professional, very detailed and friendly staff. Soon I'll complete another room I hope. Thanks for being exceptional. Terry and Curt are to be commended for service above and beyond See you soon!!
5 stars!!
We purchased two full bedroom sets and are extremely happy with our purchase.
You all were wicked awesome. Everyone was great, very kind and helpful. The whole process went smoothly. Austin and Eric the young men did an outstanding job delivering the furniture no problems, and drove all the way to New Hampshire for our delivery. We are all so very happy with the service. I would highly recommend this company to anyone that I know and even don't know. It was much worth the trip to take for a long weekend to personally be able to see the beautiful furniture and to have the time and be able to experience the beauty of your community and the wonderful people who live there, everyone is so nice.
We will be back soon for another weekend trip looking for a coffee table and side tables. Will be looking forward to dropping in to see you.
5 stars all the way
Terry is the best!! She is very knowledgeable about the furniture We purchased the Manhattan loveseat for our home on wheels. What a difference quality furniture makes when relaxing. Louise & Andy Kreuter
We ordered the Eminence Sleigh Bedroom set last August,it was delivered last week.Beautiful wood and the workmanship is second to none.Our sales lady Terry was very helpful and professional and help us every step of the way.We highly recommend Kings Amish Furniture..
Terry is an exceptional salesperson. Very helpful addressing all of our questions. Our furniture was delivered much earlier than we anticipated. Erik and Kody took great care with the delivery of our dining table and chairs. Friendly plus explained how to care for the new furniture. Thank you.
We came to Lancaster to replace a bedroom set. After looking online at a few stores and communicating via emails, we spent the weekend shopping at the local stores and finally came to King's. The entire experience was exceptional. From custom designing a dresser to helpful suggestions, it was a unique experience. The furniture was recently delivered and far surpassed our lofty expectations. I can't say enough great things about the entire team.
Amazing experience at all points from sales to delivery. Everyone I've met is so nice and knowledgeable about the furniture. You can definitely tell that they care about every customer. The furniture is of the highest quality and craftsmanship that I have ever seen. Highly recommend stoping in if you are in the market for furniture!